About Moondreamz
Moondreamz aims to inspire kids and young people to live their wildest dreams. It encourages aiming for bold visions and goals that will help people to live a life full of endless possibilities.
By donating to Moondreamz you are supporting an organisation that is set out to achieve the following objectives:
Provide relief for sick and Hospitalised children aged less than 18 years, suffering from Neurological conditions
Raise public awareness of Children's Neurological disorders and diseases
Provide funding to research and development of neurological diseases in children
Provide funding to hospitalised children suffering from Neurological diseases, and to such children's primary carers
Every donation will go towards funding life saving and new projects that impact the lives of these children suffering now, and into the future.
Who is behind Moondreamz?
Moondreamz founder, Tim Brayshaw, has an aspiring mission to get to the moon and along the journey, give faith to children and families that they too, can chase their dreams and live a fulfilled life.
"Volunteering my time as a play therapist at The Royal Children's Hospital in Melbourne was where I was able to firsthand see the impact philanthropy has on the lives of children."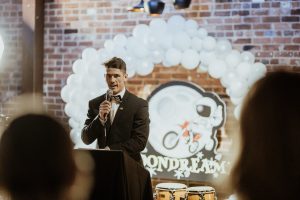 "It was from here I felt my heart beat differently and knew it was my life purpose to set out and make a lasting positive difference to healthcare for children with Neurological conditions."
Having grown in Victoria in a small coastal town, Portland, Tim was always up for an adventure and anything that gave the heart a kick. He soon realised how lucky he was to have the upbringing he did. It is what inspired him to give back and take the philanthropic path.
In 2017 while working away as a diesel mechanic in Western Australia, Tim had a moment where he knew this was not his life's purpose and something needed to change. Taking the proverbial leap of faith and quoting is what set him up to pursue something much larger than himself. Fast forward four years and a lot of growth in between, ultimately Moondreamz was born.
"The future ahead is bright and exciting. Moondreamz is gearing up to leave a lasting legacy for all those children and families that have been affected by Neurological conditions."
Shoot for the Moon.
TO HELP PLEASE CHECK OUT THE LINK BELOW
https://moondreamz.org