About Moondreamz
Moondreamz is an initiative set up to raise funds and awareness for children with brain related diseases by supporting The Royal Children's Hospital (RCH) Neurology Department. By donating to Moondreamz, you are investing in the brightest medical minds, research and the latest equipment and technology to support neurology patients and their families.
The demands on and the complexity of paediatric healthcare is continuously increasing, so your donations are vital in ensuring that Victorian children can continue to receive world-leading care, both now and in the future.
Who is behind Moondreamz?
Tim Brayshaw is the founder of Moondreamz and has set a mission to inspire sick kids to live their wildest dreams. He volunteers at The Royal Childrens Hospital Melbourne. Being at the RCH has allowed him to see firsthand the impact that fundraising and philanthropy has on the lives of children and their families receiving care.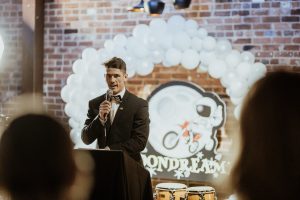 He grew up in Portland, South-west Victoria as a bright and happy kid, always up for an adventure. Motorcycles, football, BMX, and anything that gave the heart a kick – he was a part of it. Not all children and young people are as lucky to have the opportunities in life that they desire.
"In 2017, Moondreamz was an idea that came to me when I was working as a diesel mechanic in the Western Australian mines. It was a period of time where I found myself chasing the materialistic things in life yet had no sense of fulfillment." this statement he shares, highlights how material things in life are not what motivates an individual towards following their dreams.
In January 2017, a friend shared the story of someone passing away from an aggressive form of brain disease. This prompted Tim to do some studying around children's brain disease and helped him realised his life's work was to inspire young people to follow their dreams, take safe risks and embrace adventure.
This has brought incredible clarity and feelings of joy to his life. "It makes my heart beat differently and this is something we can all feel through the act of giving back."
$2 from every Brainless garment supports these kids and their dreams
TO HELP PLEASE CHECK OUT THE LINK BELOW