A YEAR OF FOUNDATIONS – 3rd September 2019
The past twelve months have passed by incredibly quick and Brainless has taken some giant leaps in becoming the brand it was envisioned to be. To build a brand is quite a difficult task – realising that everything you do from a personal stand point ultimately affects how the brand is seen in the public eye. It was a struggle at times to come to terms with this – knowing there are people out there waiting for you to slip up and let you know about it.
Finding the ingrained passion over and over and over again was the key to keep the wheels turning. A kind of internal belief that the DNA/values Brainless is built upon needs to be spread across the world to impact millions of people in a positive way.
The whole process involved in the planning, organising and actual completion of the New York Marathon adventure last year, was a huge confidence boost. To know that when you set out to do something and apply yourself 100% – that everything seems to fall into place and the goal is reached. By no means was it an easy task, but rewarding – indeed! Applying the 2018 feat to this year, it was the year to pursue and draw long term goals closer. Sitting down and re-reading the 'Master Plan' early January was a very energy draining process. Realising that BIG dreams take BIG efforts was crucial.
This year has been a year of planning for 'kicking the hornets nest' or put simply preparing for when the brand finally soars through the clouds. Trademarks across half the world, manufacturing processes and meetings with successful people have all helped mould how things will look for the next twelve months. Travelling to China, Hong Kong and throughout Australia in the last 6 months, Brainless is aiming to really shake things up and take things to a new level by March 2020. This will be a very exciting period of time to be alive.
With the structure of Brainless taking nice shape, it opens up other avenues to help make the world a better place. Within the next few weeks 'Moondreamz' will be brought to life. This is a charity-like movement to raise funds and awareness to children suffering from brain disease. Its goal is to inspire children to live their wildest dreams.  Moondreamz will be aiming to raise significant funds for these kids and make the process as much fun as possible. Plans are already shaping up for a fundraising event in March 2020. It will also link in with Brainless by receiving all the $2 donations from clothing sales. Keep an eye out for more information on this project within the near future.
"Vision is the art of seeing what is invisible to others" – Jonathan Swift
Tim Brayshaw – Director/Ambassador
#shootforthemoon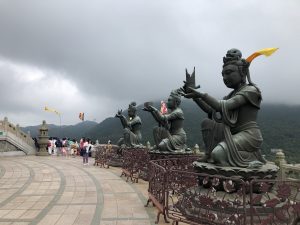 Reflecting on a Marathon of Effort – 11th March 2019
Finding time to reflect after my USA adventure it was clear that being able to participate in the iconic event was a huge privilege and to run on behalf of the Cure Brain Cancer Foundation made the experience surreal.
Personally I'd like to thank everyone who kindly donated to help me raise a total of $19,033 to help those suffering from brain disease. To be able to help these children and adults receive the care and treatment they need to survive is very rewarding internally and without everyone's help it would never have been possible.
Purpose is the reason you journey.

Passion is the fire that lights the way.                                                                

– ANONYMOUS
The trip to New York for the marathon followed by touring across the country for the next three weeks was life changing and inspired me to set higher, more imaginative goals that align with the Brainless ethos.
The last few months have been a whirlwind of planning and organisation of the roadmap for 2019 and what can be achieved within the next 12 months. Realigning the brand with its original vision and its "why", was an important process conducted during this period. We are looking forward to the challenges that arise and will meet them head on with a positive outlook for the future.
Tim Brayshaw – Director/ Ambassador
#shootforthemoon
Getting Brainless with Brett 'Robbo' Robinson on Your Life of Impact – 19th September 2018
After 10 months of Brainless jumping into the deep end, a lot has happened. Thinking that business was all about selling a product, I've quickly come to learn there is a whole other layer to having a successful venture. As Brainless gears up to tackle the New York City marathon a lot of publicity has circulated the brand. Interviews on ABC with over 58,ooo views, Podcast appearances, local newspaper articles and radio show talks have all have deeply impacted how far the Brainless message is spreading. And quickly!
Have you ever had the feeling that there has been a moment in your life to act on, but hesitated? If this sounds all too familiar, then believe me when I say this – I was there not all that long ago. As a part of this incredible journey I was lucky enough to be contacted by Brett 'Robbo' Robinson to speak to him about my story on his remarkable podcast. His podcast – Your Life of Impact – as it entitles helps implement positive change into peoples lives. If you haven't listened to his work, head on over to his website (listed below) and check out the fabulous work this inspiring man is creating for us all to listen to.
To hear the hour-long episode that explains in depth what Brainless represents head on over to the link below and check it out. Please leave a review if the podcast resonates and leaves you with any kind of positive thoughts/feelings..I'd really love to hear your feedback.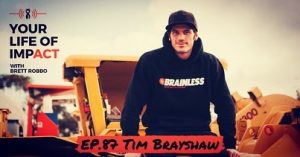 Tim Brayshaw – Director/Ambassador
Your Life of Impact website:
Episode 87 Brainless:
Ep. 87 The Brainless Way To Live Congruently, with Tim Brayshaw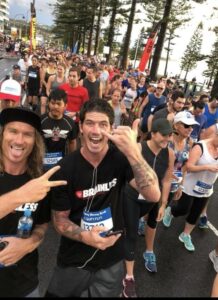 New York City Marathon – 20th August 2018
There would be no better way to launch this website (after a long time coming) than with a story that gets the warm and fuzzy feels circulating inside.
Brainless as the brand name implies is to "not think", however it has been created to relate to a deeper motive. To be able "feel" your way through life rather than "think" opens up a new way of existing. Being in tune with how you feel can be one of the toughest assignments to master in life. Once discovered, doors open – doors that you may never imagine possible. These doors lead to you dreams and what you are really in existence for.
With that said the brand is built around giving individuals inspiration to follow their wildest dreams and discover their "why". In building this brand it has directly reflected a journey of my own personal growth. There is still a long way to go but it has been one hell of a ride so far.
Cutting away from my J.O.B as a diesel mechanic in Nov 2017, the last 8 months have opened up more doors than ever expected. Being able to travel the length of the East coast of Australia, Climbing Mt Fuji in Tokyo (near death experience – please prepare if you attempt this by yourself), becoming a Community Fundraiser for the Cure Brain Cancer Foundation (CBCF) and most importantly meeting many incredible people along the way. The experiences so far have outweighed any material items ten fold.
The adventures that have occurred over the past 8 months have lead me to finding my passion and following it fifth-gear pinned. The biggest opportunity that has presented itself was helping raise $3,275.32 for the CBCF in the Sydney 10Km Cole Classic Fun Run. It wasn't a hard Charity to decide to support. Not being directly affected, I decided to support in effort to help find a cure for this – at this stage – incurable disease. Since doing so I've heard many stories from friends and people who are unfortunately severely affected by it. Brain disease is one of the biggest killers of children and rarely a feel-good story arises as a result. Kids are almost a perfect correlation for my brands message – to become present and live on the path to chasing dreams. This alone stimulated a committed effort to making a difference and helping raise the funds needed to research potential cures to let these dreams continue.
Through the efforts of the 10km Fun Run earlier this year, doors opened and the CBCF offered for Brainless to become a Community Fundraiser for their Organisation. Brainless wholeheartedly accepted. This raised the invitation from CBCF to run on behalf of them at the 2018 New York City Marathon on November 4th. An incredible opportunity to be a part of something extremely special.
By no stretch are any athletic records going to broken on my behalf in the Big Apple, however the reason to participate and create an experience to remember will be more fulfilling than any medal you can win.
Go forward and come from a place that is more than mediocre. Bring your passion 'to the table' and decide the path you are going to take. Have faith, smile everyday and enjoy the journey!
A deep appreciation to everyone who has been behind me since the beginning, the present and for the future…
Tim Brayshaw – Director/Ambassador
#nopressurenodiamonds